Bodymapp 3D body scanning technology
With Bodymapp 3D body scanning you can measure and track your fitness and health anywhere, anytime using your iPhone.
We pride ourselves in being leading innovators in 3D body scanning technology. We own some of the latest software developments in the mapping, stitching and extrapolation of your body's physical dimensions.
Bodymapp uses the depth sensor in your mobile device* to map the external contours of your body and transform it into a 3D bodymesh that matches your true body shape. This means you don't need to purchase another device or leave the house to do a body scan!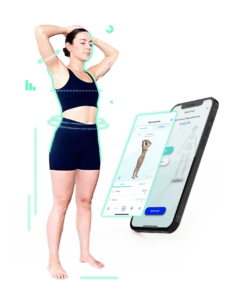 Bodymapp uses the depth sensor in your mobile device* to capture the 3D contours of your body, similar to how it is used for facial recognition. It's non-invasive safe for everyone to use – even pregnant women.
The depth sensor captures thousands of data points to map the contours of your body to create a 3D avatar of your body. From here, it finds your circumference measurements and then uses complex algorithms to determine your health metrics. Circumference measurements are accurate to within +/- 10mm and body fat percentage estimate is accurate to within +/- 3-4% of a DEXA.
For your privacy, we do not capture any photographic images. The heat map silhouette  you see on your screen as you scan is what gets uploaded for processing in monochromatic format (black and white).
*Compatible mobile devices are iPhones X/11 and above including Pro Models. App is only compatible with devices that have Face ID working.
Simplify health and fitness tracking
Get 20 different measurements of your body and health in just a few convenient clicks.