3D body scanning anywhere, anytime
Your complete body and health tracker in your back pocket. The Bodymapp 3D body scanning app lets you complete a full body scan just using your iPhone.
START SCANNING
Track your progress beyond the scales
There is so much more to your body and health than a single number. Track your progress through a lifelike 3D avatar and up to 20 measurements.
START TRACKING
Measure your body metrics for health, fitness and fashion
Scan and track your waist to hip ratio, body fat percentage, clothing measurements and more... all in one app.
START MEASURING
Body scanning has never been easier
With the Bodymapp 3D body scanning app, you can measure and track your body composition and circumference measurements anywhere, anytime.
All you need is an iPhone X or above.
There's more to health and fitness than just weight. Bodymapp tracks up to 20 measurements of your body, which tells you more about your health and fitness progress. Plus, your lifelike 3D avatar helps you visualize the changes you can't see in the mirror.
Tracking your body with Bodymapp is simple and convenient
Download the free Bodymapp app to start tracking your health and fitness through your measurements.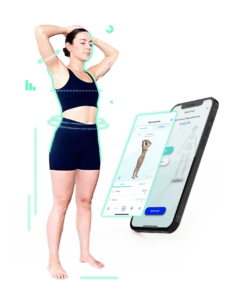 Complete a 3D body scan anywhere, anytime using a compatible mobile device*.
Get unlimited scans and all premium features including avatar comparison, goal setting and more!
A smoother online shopping experience at your fingertips. Get accurate body measurements saved to your phone in just a few convenient clicks.
Get started with Bodymapp today